Unique abilities are passive abilities that work as long as a Hero is being used on a team.  While every Hero has a passive ability, not all of them will be effective if the Hero either not being attacked or not being used in play.  Some Heroes have passive skills that work when they are placed in the Sub slot (the fourth and furthest right-side slot when choosing a team).  These Heroes are great to use for the Sub because you really only need to focus on getting their Unique abilities unlocked and you don't need to worry as much about gear as long as your primary team can sufficiently defeat your enemy.
In order to unlock a Hero's passive ability, you need to get their CC at least above 16k and complete the single battle to unlock their Unique ability.  You will know when you're high enough to complete this challenge when the lock symbol over the Unique ability starts glowing.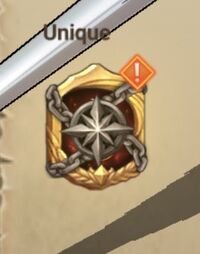 These battles will usually have some tie-in to the Anime and will require the Hero to battle three enemies.  The Hero has to fight completely alone, but if you win the battle then you will have unlocked the Unique ability.
These passive abilities can affect:
All enemies
All allies
Only certain affinity or race allies
Passives Affecting All Enemies
PvP
Green Gowther decreases all enemies' Defense-related stats by 15% in PvP.  Thus, he is a good alternative to Green Gilthunder for PvP.
Red King reduces all enemies' Pierce Rate by half and also reduces the value of any additional increase or decrease by half in PvP.
Green Lillia decreases all enemies' Attack in PVP by 16%.
All Battles
Blue Arden decreases all enemies' Ultimate Move Gauge by 2 orbs when the Hero participates in battle.  This skill applies as soon as Blue Arden enters into battle, which makes Blue Arden really not that useful unless someone from your main team dies off and needs to be replaced.
Green Deathpierce decreases enemies' Crit Resistance and Crit Defense by 30%.
Passives Affecting All Allies
Death Matches
PvP
All Battles
Passives Affecting Specific Affinities or Races
Affinity Allies
Heroes that affect specific Affinities are really useful to use in the Training Grotto since you'll generally want to use all (or mostly all) of one Affinity to beat a given Goddess Amber.
Strength Allies
Speed Allies
Blue Gilthunder increases Speed attribute allies' Defense by 60%.
Blue Jericho increases Speed attribute allies' Attack-related stats by 10%.
Blue Marmas increases Speed attribute allies' HP by 30%.
HP Allies
Green Allioni increases HP attribute allies' Attack-related stats by 10%
Green Jillian increases HP attribute allies' HP by 30%.
Race Allies
These Heroes are really useful to use when the Knighthood boss or event challenge requires you to use Heroes from a specific race.
Human Allies
Red Arthur increases Human allies' HP-related stats by 15%.
Red Howzer increases Human allies' basic stats by 8%.  
Giant Allies
Red Diane increases all Giant allies' damage dealt by 40%.
Fairy Allies