[Advent of Ocean] Covenant of Light Tarmiel can deal greater damage the more HP he has remaining.
Hero Rating & Base Stats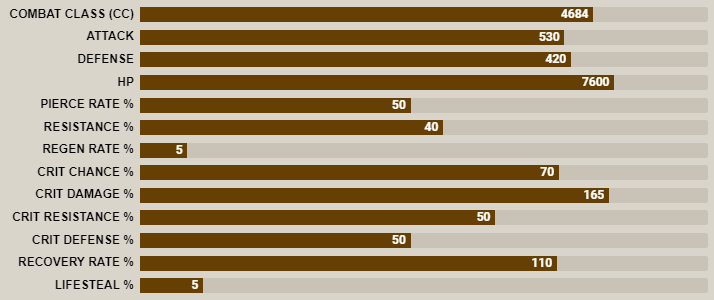 Hero Advanced Stats
Skills
Piercing Spout
Rank 1
Inflicts

Flood

damage equal to

200%

of Attack on one enemy.
Rank 2
Inflicts

Flood

damage equal to

300%

of Attack on one enemy.
Rank 3
Inflicts

Flood

damage equal to

500%

of Attack on one enemy.
Ultimate
Ocean
Inflicts

Detonate

damage equal to

420 / 462 / 504 / 546 / 588 / 630%

of Attack on all enemies.
Unique
Embrace of Ocean
[[Heroes - Increase Basic Stats]|

All allies' basic stats

]] will increase by

6%

every time a hero uses a Grace to restore HP (limit 5 times).
Grace of Ocean
If the hero is attacked during the enemy's turn, immediately recovers

30%

of damage taken. If taking damage

twice

or more from skills of the same enemy in the same turn,

restrict all skill effects, including Ultimate Moves

, of that enemy for

2 turns

(Excludes Stance and Recovery Skills).
Hero Guide - Coming Soon
Holy Relic
Hvergelmir Rapids Bracelet
Gallery
Story
Tarmiel is one of the Four Archangels of the Goddess Clan. He is also one of the commanders of Stigma alongside Ludociel and Sariel. As one of the Four Archangels, Tarmiel is an extremely powerful goddess. He was confident that he could eliminate the Ten Commandments within ten seconds. Tarmiel's young and old looking heads can fire a holy beam from its eyes and loud blast attacks from its mouth respectively which makes any attempt of flanking the three-headed Archangel difficult.
At some point of his life, Tarmiel was given his Grace by the Supreme Deity. He was close to the four archangels and to the Deity's daughter. Though he apparently wasn't particularly close to Mael, Tarmiel asked Sariel to be less blunt at point out Mael's adoration to his older brother Ludociel, much to the younger goddess' embarrassment.