Welcome to the 7 Deadly Sins: Grand Cross Community
Creating your Fandom Account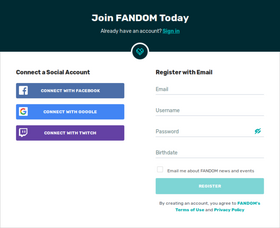 Looking to be a part of the 7 Deadly Sins Grand Cross community? It's time to create your own Fandom Account. On the top right of every page on all wikis, you will find links to Log in and Sign up. To sign up, you can create a new account or use your Facebook or Google account.
After choosing to sign up, an account creation page will load and allow you to fill in your account details. All usernames on Fandom are unique and should comply with the Terms of Use. Once you sign up, you are now a member of the Fandom community!
Next Steps
After you create your account, now is a good time to create your profile located at your userpage, especially if you like introducing or describing yourself. Click the edit button and add anything you want people to know about you. What do you want people to know about? What do you have to show off?
Be sure to check your Preferences and make any adjustments as necessary. The 7 Deadly Sins Grand Cross community strongly recommends changing your default Landing Page from "Community Feeds" to "Main Page" so you can stay up to date with all the new content related to 7 Deadly Sins Grand Cross.

Making Your First Edits
Now that you have created your account, feel free to jump around the wiki and look for places to contribute. The New Editor Guide is a step-by-step instruction of making your first edit on an article page. Any additions of missing content for pages is always helpful. For more information on editing, view these help pages.
Help:Editing - Information about the different editor options at Fandom.
Help:Links - Information on how to set up different types of links on a Fandom page.
Ongoing Editing Projects
Below are current projects and areas of the wiki that can utilize your help with fleshing out:
Assistance with translating English guides to other languages, primarily German, French, Spanish, or Portuguese.
Staff
The following users are staff members of the 7 Deadly Sins Grand Cross wiki. Feel free to reach out to these users if you are looking to help contribute on the community or have any questions:
User name
Groups
Edits
Last edited
Jayyyygs (

Wall

)· (Contribs)· (Block)· (Rights)
bureaucrat, sysop, user, autoconfirmed
3428
12:15, 31 July 2020
Mamacashuu (

Wall

)· (Contribs)· (Block)· (Rights)
sysop, user, autoconfirmed
112
08:54, 2 June 2020
DncingRetsuko (

Wall

)· (Contribs)· (Block)· (Rights)
sysop, user, autoconfirmed
497
23:01, 29 July 2020
TheBlueRogue (

Wall

)· (Contribs)· (Block)· (Rights)
sysop, user, autoconfirmed, fancontributor-contributor
80
14:20, 31 July 2020