The Knighthood becomes available after Episode 72 is beaten.  Other than being a fun way to chat with other like-minded 7DSGC players, the Knighthood also has several features.
Rankings
From the main page of the Knighthood Manage screen, you'll see overall information about your Knighthood, the number of members, joining requirements, and any introductions or notices that your Captain may want to share.  For example, some Knighthoods may include their Discord channel in one of these sections.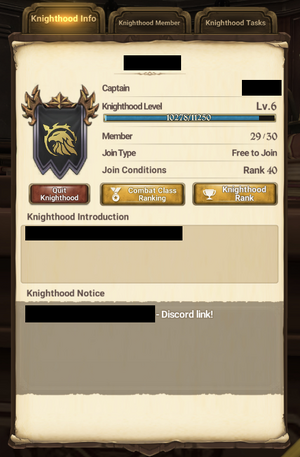 Here you can also see how you rank against your fellow Knighthood members based on your registered team combat class and account combat class.  You can also see how your Knighthood ranks up against other Knighthoods on the server.  If you make a significant increase in your overall combat class, make sure to re-register your account combat class to ensure your Knighthood's rank gets calculated properly.
Knighthood Coin rewards are granted weekly based on the Knighthood's rank, as shown below:
| | |
| --- | --- |
| Rank | Knighthood Coins Rewarded |
| Rank: 1 | 1000 |
| Rank: 2 | 800 |
| Rank: 3 | 700 |
| Top 0~1% | 600 |
| Top 2~10% | 400 |
| Top 11~30% | 200 |
| Top 31~50% | 100 |
| Top 51~70% | 80 |
| Top 71~100% | 50 |
Check-In
Rewards are granted daily for the total number of members that checked in the previous day.  It is best to find an active Knighthood that gets a minimum of 20 members checking in daily so that you can get a free Diamond once per day.
| | |
| --- | --- |
| # of Members Checked-In | Reward |
| 5 members | 32 x C-Tier Treasure Chests |
| 10 members | 16 x UC-Tier Treasure Chests |
| 15 members | 8 x R-Tier Treasure Chests |
| 20 members | 4 x SR-Tier Treasure Chests + 1 Diamond |
| 25 members | 2 x SSR-Tier Treasure Chest + 1 Diamond |
| 30 members | 1 x UR-Tier Treasure Chest + 1 Diamond |
Representative Hero
When standing next to the mirror in the Knighthood area, you can change who your representative hero is (this is the hero that runs around in the Knighthood and the Vaizel Fight Festival, which are the only two times that you'll be controlling someone other than Meliodas when exploring the world).  This is just a cute feature, but it doesn't serve any real necessity or benefit.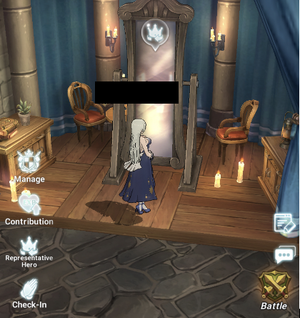 Contribution
Contributions can be made at the Knighthood Manager.  You can acquire rewards by contributing up to a daily maximum of 50 Red Demon's Horns, Gray Demon's Wings, or Demon Beast Howlex's Ears (all items that are obtained from completing Death Matches).  One Knighthood Coin is earned for each item contributed, as well as one Knighthood experience point, which goes toward increasing the Knighthood's level.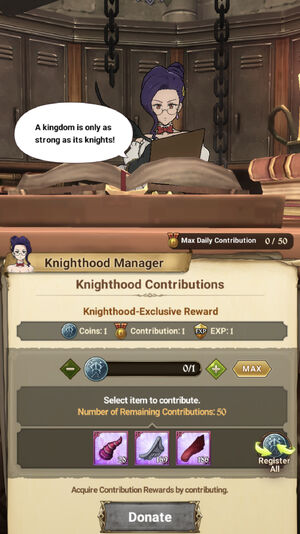 Knighthood Tasks
Knighthood Tasks require working together with your Knighthood to complete repetitive tasks.  Some examples of these are getting a certain number of daily check-ins, clearing a certain number of Death Matches, donating Gold to villages, or participating in the Vaizel Fight Festival.  These tasks reset on a daily basis, so make sure you check in periodically to claim any unclaimed Knighthood Coins from rewards.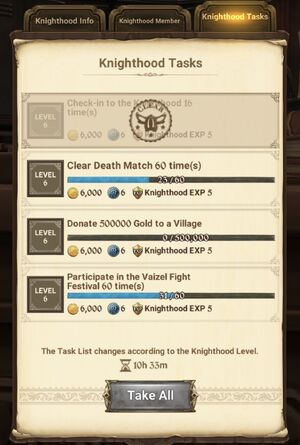 Knighthood Shop
Items can be bought and sold with the Knighthood Manager at the Knighthood Shop.  Depending on your Knighthood's level, various items may be available for purchase.  At Knighthood Level 4, Stamina potions become available to purchase for 20 Knighthood Coins.  These are the best item that can be purchased from the Knighthood Shop, and a maximum of three can be bought daily.  When selling Treasure Chests with Veronica's Gold buff, the Knighthood Shop is also the easiest and fastest shop to access without much effort since you can access it from your home navigation screen.
Knighthood Boss
The Knighthood Boss requires a Knighthood Level 3 or higher.  If you're starting your own Knighthood, you'll unlock the Knighthood Boss as soon as you reach Knighthood Level 3.  Since no stamina is required to battle the Knighthood Boss, this is an easy area to test out heroes while attempting to beat your highest score on the boss.
Knighthood Competition
Top 32 rank Knighthood can participate in Knighthood Competition, also known as "guild wars". This is a PvP style type of content.
Knighthood Competition Regular Season
All Knighthoods with 20 or more members can sign up can participate in the Knighthood Competition Regular Season. Participating Knighthoods will go through a single 1 vs 1 Regular Season Competition through matchmaking. This is a PvP style type of content.
Finding a Knighthood
If you don't have a Knighthood already, you can either create your own or join one that is already made.  Due to the need to have more active members, it is generally recommended to find an already existing Knighthood.  You can either post in server chat, ask for an open Knighthood on the Discord server, or check out the 7DSGC Reddit Knighthood recruitment thread.