Association units are placed in the smaller box to the bottom right of the main unit heroes.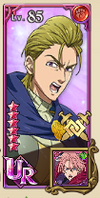 There are three main types of Associations that can apply:
Normal Association
Combined Attack
Grace
Normal Associations offer bonuses when specific units are placed in the Association slot.
Combined Attacks are specific relationships between two units that will modify the main unit's Ultimate Move. An example of a Combined Attack is Red Guila's Chain Explosion becoming Bomb Cyclone when Howzer is placed in her Association slot. This modified Ultimate Move will usually have better stats as well as a different animation. When using Association units for Combined Attacks, it is more cost-effective to use SR units since it'll be easier to max out the Ultimate Move levels for SR units.
In addition to the above bonuses, members of the Goddess race also offer Graces, which apply even if they do not have an Association with the main unit hero whose Association slot the Goddess is filling. These bonuses are:
Ludociel: Grace of Flash (debuff evasion)
Festival Ludociel: Grace of Flash (attack increase with buffs and stances)
Tarmiel: Grace of Ocean (HP recovery)
Sariel: Grace of Thunder (increased damage - ignores enemy's Crit Defense)
Recommended Associations
Depending on your team's Combat Class, the following Associations are recommended:
If you have sufficient CC to clear the level and are looking for a boost to deal more damage

If no Combined Attack is available, use Archangels to benefit from their Grace effect
If a Combined Attack is available, use that Association to deal extra damage to the enemy

If you do not have sufficient CC to clear the level, use the following Associations (ranked from highest to lowest CC impact out of the top units)
Common Relationships
Due to their relationships in the [Seven Deadly Sins] storyline, some characters are typically found to have Associations and/or Combined Attacks. Below are some examples of common relationships that are seen. More specific information about each unit's Associations and Combined Attacks can be found on the unit's Hero Page.
Monspeet & Derieri
King & Diane
Meliodas & Elizabeth
Ban & Elaine
Ban & Meliodas
Zeldris & Estarossa
Escanor & Merlin
Gowther & Gustav
Griamore & Diane
Simon & Slater
Guila & Howzer
Association Bonuses
The following are the bonuses obtainable whenever a unit has an Association with one of these characters. All units for these characters (regardless of Attribute) will have these bonuses.

Attack +280
Guila
Jericho
Melascula
Captain Meliodas
Monspeet
Slater
Crit Chance +19.2%
Crit Damage +23.4%
Arden
Dreyfus
Eastin
Estarossa
Golgius
Marmas
Rimuru
Twigo
Crit Damage +23.4% & Crit Chance +19.2%
Crit Defense +27%
Crit Resistance +24.6%
Crit Resistance +24.6% & Attack +280
Defense +340
Defense +340 & Recovery Rate +19.8%
HP +1440
Drole
Fraudrin
Howzer
Old Fart King
Mono
Lifesteal +12%
Nunchuck Ban
Hendrickson
Roxy
Weinheidt
Zeldris
Pierce Rate +19.2%
Gowther
Skinny King
Simon
Recovery Rate +19.8%
Regeneration +12%
Resistance +24.6%
Arthur
Elaine
Escanor
Galland
Gloxinia
Hugo
Resistance +24.6% & Lifesteal +12%